SEEN. HEARD. VALUED.
At Elli J. Beauty, we encourage & put an emphasis on inclusivity, acceptance and mental health awareness. We don't just strive for inclusivity in terms of shade range, skin type, ethnicity, and age, but we try to take it a step further by also catering to different skill levels, budgets, and lifestyles.
Regular price
From $11.00 USD
Regular price
Sale price
From $11.00 USD
Unit price
per
Regular price
Sale price
$12.00 USD
Unit price
per
NEW BUILD YOUR OWN PALETTE OPTIONS HAVE ARRIVED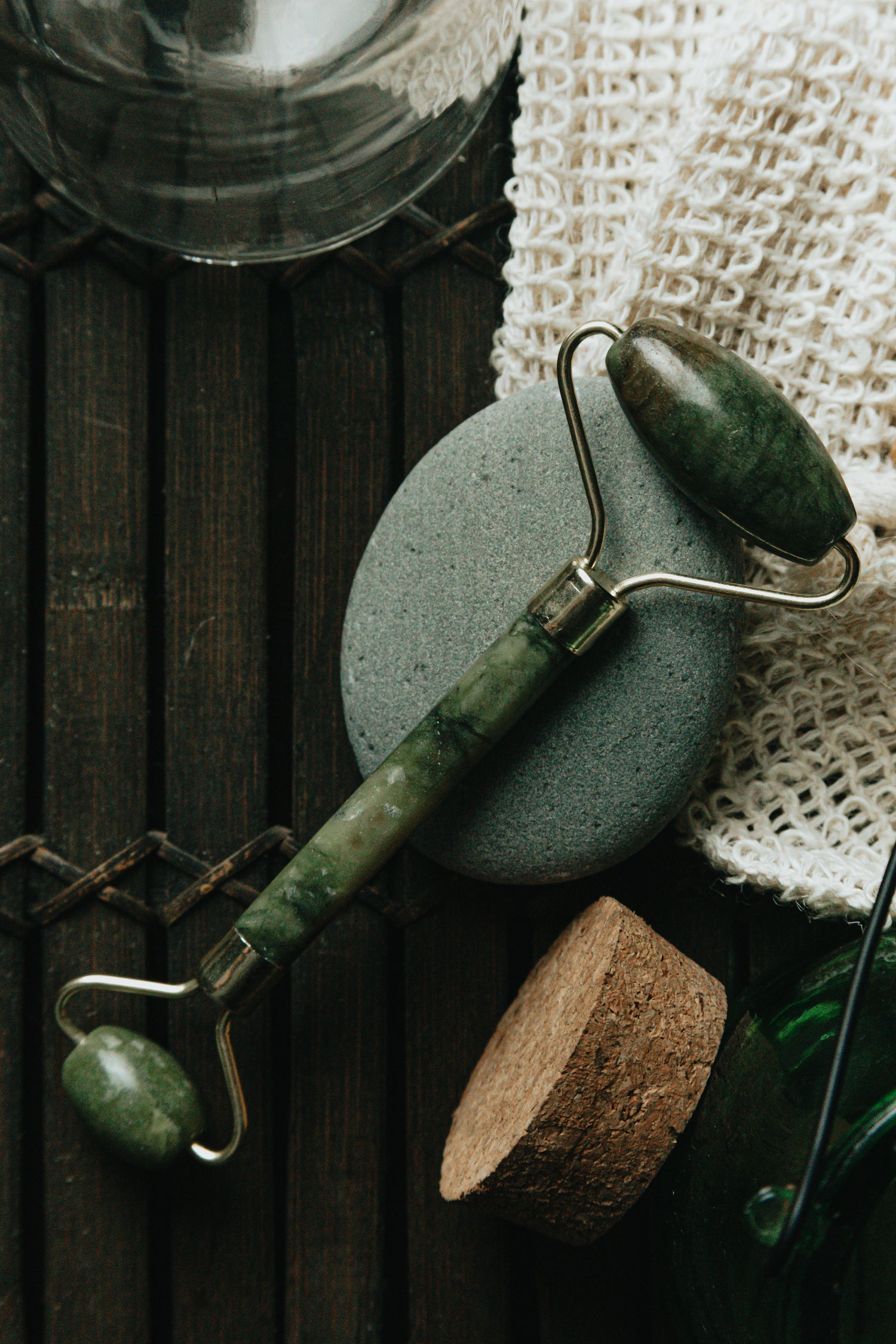 ABOUT US
We celebrate those who often feel overlooked by mainstream beauty. We actively seek feedback from customers & supporters to understand their needs better & to create diverse products that everyone can enjoy.
Sometimes societal beauty standards & strategically curated social media influences can leave us feeling overwhelmed as consumers. We want our community to not only feel valued, but we want to give value, by consistently providing education & empowerment through our products and content.
Our advocacy for autism acceptance and mental health awareness adds even more passion to our purpose.
We use the term "Spicy Brain" here to umbrella amazing neurodivergent minds & those who struggle with mental health, & use our platform to spread acceptance and advocacy for our fellow spicy brains.
We aren't backed with limitless capital, a corporate marketing budget, or a team of employees. Just a one-woman show, a mama, continuing to jump over competitive hurdles & barrel through economic obstacles...for her family - and for all of the people who have ever felt inspired, beautiful, creative or free to express themselves with our brand & for all of the people we aspire to impact as we grow.
In essence, Elli J. Beauty is more than just a makeup and skincare brand; it's a community that champions diversity, inclusivity, acceptance and mental wellbeing. Makeup has limitless potential for what it can do for an individual.
We don't just "sell makeup", we encourage you to approach Makeup Without Boundaries, while gently reminding you that you are a perfectly unique BADA$$ who deserves the world!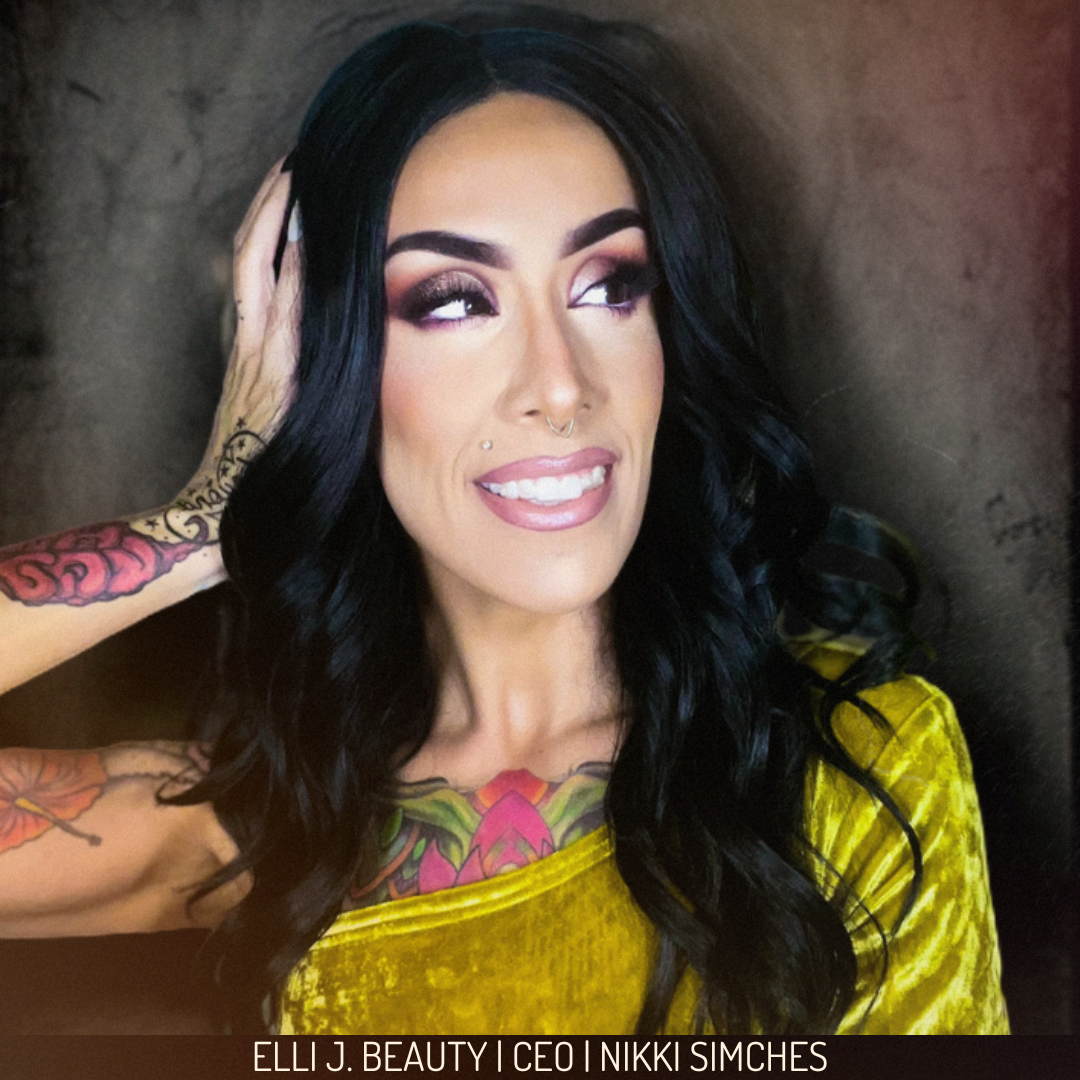 MEET THE CEO
NIKKI SIMCHES
WELCOME TO MY WORLD OF BEAUTY WHERE WE EMBRACE AUTHENTICITY, UNIQUENESS, DIVERSITY, & CREATIVITY.
WE SUPPORT OUR FRIENDS WHERE THEY ARE AT. WHETHER THEY ARE NEW TO MAKEUP, PERFECTING THEIR SKIN CARE ROUTINE, A WORKING MAKEUP ARTIST, A BEAUTY CREATOR, OR A PASSIONATE MAKEUP ENTHUSIAST, THERE IS SOMETHING HERE FOR EVERYONE.
WE PROMOTE INCLUSION, ACCEPTANCE & MENTAL HEALTH AWARENESS - BECAUSE IT MATTERS. BECAUSE YOU MATTER.
I HAVE BEEN IN THE PROFESSIONAL BEAUTY SPACE FOR 18 YEARS, AM AN INGREDIENT NERD, & STRIVE TO ONLY PRODUCE PROFESSIONAL-QUALITY PRODUCTS THAT I LOVE, TRUST, & CAN FEEL CONFIDENT IN AS A WORKING ARTIST & BEAUTY CONSUMER.
I AM A MAMA TO TWO INCREDIBLE KIDS WHO HAVE TAUGHT ME MORE ABOUT LIFE IN THE LAST DECADE THAN I HAVE LEARNED IN ALL 35 YEARS OF MY LIFE. BOTH OF MY CHILDREN ARE AUTISTIC WITH ADHD & IT WAS THROUGH DEDICATING THE LAST 8 YEARS TO LEARNING ANYTHING & EVERYTHING I COULD TO HELP THEM THRIVE, THAT I DISCOVERED MY OWN NEURODIVERGENCE. I ALSO VOWED TO WORK ON MY OWN MENTAL HEALTH.
I BATTLED MY OWN BRAIN ALL OF MY LIFE, SO I SET OFF TO BECOME THE BEST MOM & HUMAN BEING I COULD.
DIAGNOSIS' CAN FEEL OVERWHELMING, SO WE CALL OUR BRAINS "SPICY BRAINS" - BECAUSE REGARDLESS OF A DIAGNOSIS' - YOUR BRAIN IS SO DAMN BEAUTIFUL, JUST A LITTLE SPICY. HERE, WE LOVE SPICE.
MY PASSION FOR MAKEUP SAVED ME GROWING UP & I FEEL BEYOND GRATEFUL THAT I CAN HELP OTHERS FIND THEIR OWN CREATIVE OR THERAPEUTIC OUTLETS WITH MY PRODUCTS.
MY PASSION FOR MENTAL HEALTH IS WHERE YOU'RE GOING TO SEE AMAZING THINGS COMING UP IN THE NEAR FUTURE. I AM CURRENTLY A GRADUATE STUDENT IN CLINICAL MENTAL HEALTH & AM SO PROUD OF WHAT IS IN STORE FOR ELLI J. BEAUTY.
RIGHT NOW, I AM THE SOLE MEMBER OF THIS BRAND. I ANSWER YOUR EMAILS, PACK YOUR ORDERS, & RUN THE SOCIALS. RUNNING A BRAND IN AN OVER-SATURATED MARKET DURING ECONOMIC CHAOS - ITS NOT THE EASIEST. BUT AT THE END OF THE DAY I CAN PROMISE YOU, NO ONE CAN DUPLICATE HOW MUCH I CARE ABOUT THE PEOPLE I GET TO SERVE WITH OUR MISSION, DAILY. MY CUSTOMERS, SUPPORTERS, FRIENDS...YOU ARE TREASURES, AND I AM ETERNALLY GRATEFUL FOR YOU ALL.
CHEERS TO YOU, FOR LETTING ME, BE ME!